As a tourist or business traveler, you want to make sure that your trip is as enjoyable and memorable as possible. One way to do this is by renting a charter bus from Tampa Charters. When you're exploring Tampa in Florida, there's no better way to get around town than on one of our luxury coaches. We have experience in the transportation industry and count some of the top corporations in the world as our clients. We know how important it is for you to have a great time while visiting here so let us show off our beautiful city with an exceptional charter bus rental service today!


If you are planning a school field trip, wedding, birthday party or corporate outing, than you need transportation suitable for a large number of people! Our charter buses are a perfect option for getting groups of 30-50 passengers from point a to point b.
We have many different styles and options for charter bus rentals. We can service any size party, no matter the occasion. Our charter buses are top notch, well maintained, and serviced regularly.
Below is a list of cities where we have access to hundreds of buses all for hire when you need them the most. If you don't see the service area you require, just give us a call, as we service the entire state of Florida!
Bus Rentals Across Florida
It's the best time to visit Florida and enjoy the sunshine and beaches. If you want to explore this beautiful city, then our charter bus rentals are perfect for you. We provide full-size coaches and mini buses in Tampa Florida, so whether it is a wedding or senior trip, we have the right vehicle for your needs.We pride ourselves on providing excellent customer service and satisfaction with every charter bus rental experience! Our team at Tampa Charters has experience in providing transportation services in FL area. We have been rated as one of the top charter bus companies by TripAdvisor travelers because they know how professional we are when it comes to handling their travel needs
If you are looking for a charter bus company then look no further! We service all cities in the state of Florida. A Coach bus rental is the ideal method of transportation for small to large passenger sized groups. For any type of events from weddings, birthday parties, corporate outings, or any event that requires group transportation. We also specialize in group transportation for sports events, concerts and festivals and anything in-between. We are your go to coach and charter bus company. Call, text or live chat with our trained reservation specialists get the best bus rental for your needs.
We offer various types of buses for any number of passengers. No matter if it's a short trip or long trip, we have the right size of vehicle for you!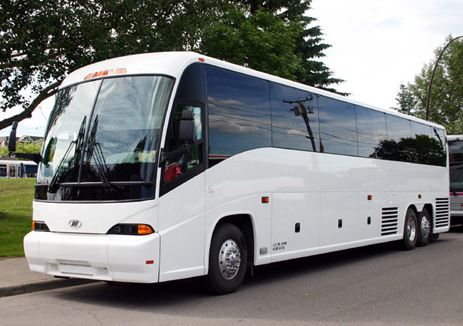 60 Passenger Charter Bus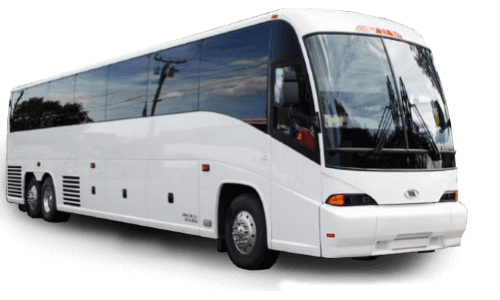 56 Passenger Charter Bus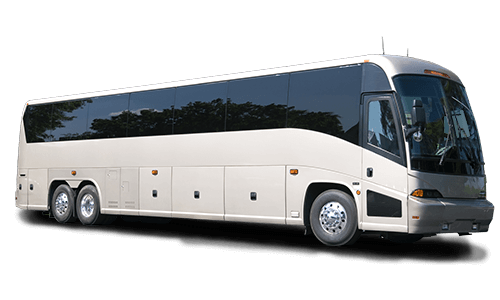 50 Passenger Charter Bus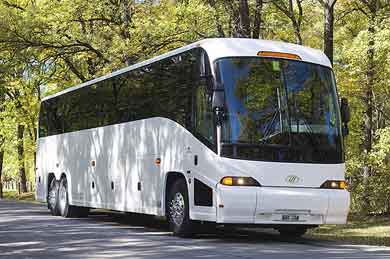 45 Passenger Mini Coach Bus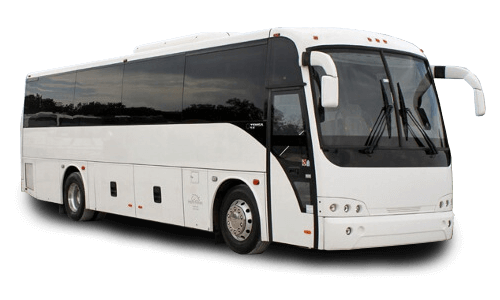 40 Passenger Mini Coach Bus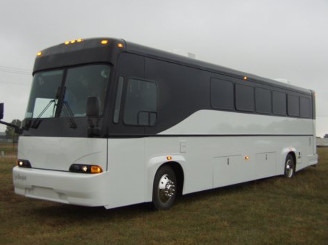 30 Passenger Mini Coach Bus
A coach bus is the best way to travel with a large group of passengers, logistically it's more efficient to travel using a coach or bus rental for events such as concerts and sports events. With a charter bus rental an added benefit is that you don't need to stress about any group transportation planning. If you are traveling a large group of passengers you may need to plan for each individuals transportation, with a bus rental you can have everyone meet at one location and be picked at the same time.
Contact us for a live free quote on a coach bus rental, we have a wide variety of bus rentals to pick from. Our 60 Passenger Coach bus is ideal for large parties of passengers. 50 Passenger coach bus perfect for transportation students or staff from and to an event. Smaller options such as a 45 passenger mini coach bus can be used to transport groups in smaller sizes.
Set your own pick up, drop off and locations for your coach bus rental! That's right, you can customize your itinerary to fit your needs. Every group transportation plan is not the same, get instant pricing and availability for coach and charter buses. We provide luxury coach rental buses that are extremely reliable and comfortable.
No matter what style of transportation you may need for your next event, we can accommodate everything. If you are looking to rent a bus for your school trip or maybe take one down to Disney, look no further than VIP Tampa Limousine!
A Charter bus rental can be used for all types of events. We have a large inventory of bus rentals to pick from. We offer a wide variety of vehicles for any trip size. Our fleet includes luxury, regular coach and charter buses.
No matter what type of group transportation you may need for your next event.
Sports Game Coach Bus Rental
Wedding Transportation Bus Rental
Music Festival or Concert Bus Rental
Birthday Party Bus Rental
Airport Transportation Bus Rental
City Tour Bus Rentals
Corporate Event Coach Bus Rental
Church Charter Bus Rental and more!
Call Tampa Limousine VIP today for a live quote with pricing and availability
Motorcoaches & Minibuses
Motorcoaches and mini buses are two great options when you need to transport a large group of people. What's the difference?There is one major difference between a motorcoach and mini bus: the seating capacity. Motorcoaches are larger vehicles with more seating space (up to 60 passengers). Mini buses generally seat anywhere from 10 to 25 passengers, but they're still large enough to fit several passengers comfortably. Both types of vehicles offer plenty of room for luggage as well as many different amenities, like free Wi-Fi access and restrooms inside the vehicle. They also have ample storage compartments throughout the bus so you can keep your personal items safe while traveling on long trips together with friends or family members!
Bus Rentals Near Me
Tampa Charters is a local company that has been providing bus rentals to the Tampa area, We know this area well and can help you find the best destinations for your group or event. Tampa Charters is also a family-owned business, so you can trust us to be honest with you about the needs of your group or event. We want you to get the best value for your dollar!
Charter Bus Pricing Explained
The price of your charter bus rental is determined by the number of seats, length of the trip, and number of stops. If you want to explore Tampa Florida and take in all that it has to offer, you can use a bus rental from Tampa Charters. This will allow you to travel with as many people as possible while saving money on transportation costs. You can also save money on gas or parking when using a charter bus rental service in Tampa Florida. You can find affordable rates for charters buses by calling.
Minibus Rentals
Minibuses are the perfect choice for small groups. A minibus is a type of bus that is smaller than a full-size coach, and it can hold anywhere between 8 to 15 passengers. Minibuses are used for private transportation, school buses and corporate shuttle services. Wedding transportation is another popular use for this vehicle type as well. Minibuses are ideal for small groups, as they have a lower capacity than full-size coaches. They are also more fuel efficient than larger vehicles and can be used for transporting students to and from school events. Minibuses come in a variety of sizes and styles, so you can find one that fits your needs perfectly.
Mini Bus Pricing Explained
Mini buses are usually smaller than full-sized buses, but their interior is just as spacious. They're more fuel efficient and maneuverable, which makes them ideal for traveling through congested areas or busy city streets. Mini buses are also flexible; they can accommodate a large number of passengers yet still fit in the parking spots and garages that larger vehicles might not be able to use. These vehicles have been called on by many clients who need to transport groups of people from one place to another, but don't want the hassle of driving themselves or dealing with traffic delays along their route. The most affordable type of mini-bus rental includes an automatic transmission, air conditioning and heat (depending on climate), power windows and doors with keyless entry/remote start engine start capabilities (depending on vehicle). You will also receive free luggage racks installed inside each vehicle so that you can safely store your belongings while traveling comfortably around Tampa Bay area attractions!
Motorcoaches For Hire
A motorcoach is a type of passenger transportation that provides passengers with an experience similar to riding on a train. Motorcoaches generally have more amenities than buses, and larger capacities so that they can accommodate more people. With the popularity of motorcoaches growing throughout Tampa Bay, why not try one out? The main advantage of booking with a bus rental company like Tampa Charters is that they will provide you with excellent customer service. Bus companies that specialize in short-term rentals understand how vital it can be for customers to feel welcome when they're traveling by bus. They also offer daily and weekly rates on their rentals, which makes them an affordable option compared to renting your own vehicle or paying exorbitant cab fares while visiting Florida's largest city!
Motorcoach Pricing Explained
When you're comparing motorcoach rental prices, it's important to keep in mind that there are many factors that determine the price of your vehicle. The most obvious is the size of your group and how many people will be traveling with you. We offer many sizes of motorcoaches, including:
Coach Bus (up to 49 passengers)
45-50 Passenger Party Coach Bus
52-56 Passenger Party Coach Bus
There are also other factors that can affect your overall price such as: The amenities offered on board, such as WiFi and satellite TV. Extra services like onboard catering and personal attendants from our staff (for those who want to be pampered). Optional extras such as GPS or GPS tracking for peace of mind during travel (for those concerned about safety). You can choose these extras when you book online or at time of pickup depending on what makes sense for your needs!
Charter Bus Rental Services
If you are planning a trip to Tampa, Florida and want to rent a charter bus with the most experienced transportation company in the area, then you should contact us at Tampa Charters. We are one of the best companies that offer this kind of service because we know how important it is for our customers to get around safely and comfortably. At Tampa Charters, we have years of experience providing top-notch transportation services for people who need buses for their events or trips. Whether you need a charter bus rental service for your wedding day or simply want to visit some attractions in Tampa Bay on an exciting tour with friends and family members, we can help make it happen!
Airport Transportation
Tampa Charters provides you with the following airport transportation services: Door-to-door service to and from the airport. Transportation to and from the Cruise Port. Transportation to and from the Hotel. Transportation to and from a Venue (Example: Convention Center).
Coach Bus Transport For Sport Teams
If you are part of a sports team, charter buses can be a great way to travel. This is especially true for large teams. Many people assume that traveling via bus is inconvenient and boring, but this isn't necessarily the case. Charter buses are available for almost any sport, so they can accommodate your needs no matter what they may be. If you need a bus that has plenty of space and comfort, then charter buses will have everything you need! They also allow passengers to bring their own food or drink on board during trips which makes it easy for them not having to worry about stopping somewhere before heading back home again.
School Bus Rentals For Perfect School Trips
School Bus Rentals are perfect for school trips. School buses are safe and reliable, comfortable, spacious and economical. School buses can also be rented in many different sizes with different colors options to match your theme or event.
Government Charter Bus Rentals
For those who want to get a bus rental from Tampa Charters, the best way to do so is by looking at government charter bus rentals. These types of buses are often used for school field trips or other events that require transportation. The government will often rent out these buses for private events such as concerts and sporting events as well. These types of rentals can be found throughout the state of Florida, but you may need to make sure that there's one near you before deciding on your final destination. If you're looking for government bus rentals near me, then Tampa Charters is here to help! We have vehicles available in many locations throughout Florida, including Tampa itself where our headquarters are located. If you'd like more information about getting a rental from us or any other companies out there that offer similar services then feel free to contact us today! We'd be happy if we could help answer any questions you might have about renting one out today!
Book Corporate Travel Coach Buses
You can benefit from booking a corporate travel coach bus by saving money, time and hassle. Read on to learn more about the costs of hiring a bus in Tampa, as well as how to book one!There are many advantages to chartering a party bus for your upcoming event. For example, you get to avoid the stress that comes with driving yourself or having someone else drive you around town—and if that's not enough of an incentive for you then how about this: You won't have any trouble finding parking spots because there won't be any! That's right—no more circling or trying desperately not to get dinged by another driver while trying to find a spot. And since most buses come equipped with GPS navigation systems (some even have built-in Wifi gear), getting lost will be no problem at all either!
Prom and Formal Shuttle Service
Bus charters can be a great way to get to your destination in style. If you're looking for prom or formal shuttle service, look no further than Tampa Charters. We have a variety of vehicles available for all your transportation needs, including limos and party buses that will help make sure that your night is one to remember.
Easy Transportation For Greek Events in Motorcoaches
What makes it so easy to travel in a motorcoach? A big coach can fit up to 50 people, which means you don't have to spend your time coordinating rides with dozens of people. You'll never have trouble finding a parking space for your bus rental because it's much bigger than most vehicles and doesn't take the same amount of time as driving yourself or taking public transportation.
Affordable Homecoming Bus Rentals
Homecoming is a time for students to celebrate the end of the school year, alumni to return to the school, families to come together and students to celebrate their school. The University of Tampa offers an extensive variety of events during homecoming week from tailgating before games, pep rallies and concerts by popular artists. These events provide an opportunity for our company Tampa Charters Bus Rental Services. Our buses are equipped with state-of-the-art technology which makes it easy for you and all your guests travel in comfort without worrying about traffic jams or parking problems.
Travel Comfortably With Pub Crawl Minibuses
Traveling with a group of people can be challenging, especially if you're traveling to a new city. We understand that you want everyone to have a good time and stay safe on their trip. That's why we offer pub crawl minibuses, which are the perfect way for your group to travel comfortably in Tampa Bay. Here are some tips on how to make sure your pub crawl minibus rental experience is as smooth and fun as possible: What should I expect from my pub crawl minibus rental? Your driver will pick you up at the scheduled time and bring you all over Tampa Bay for sightseeing and bar hopping! You won't have any issues finding bars or getting home safely thanks to our knowledgeable drivers. They'll also give recommendations on what bars in particular they think would appeal best to your group while driving around town during your trip.
Ongoing Employee Shuttle Bus Service
Do you need a bus rental for an ongoing employee shuttle service? If so, Tampa Charters has the right bus for your needs. We have over 15 years of experience in the industry and will be able to provide you with the best possible solution that works within your budget while still being cost effective. With our help, you will be able to find a reliable and safe option that can take employees from their homes or offices to the airport or train station at any time of day or night. Our fleet consists of vehicles ranging from small vans up through large motorcoaches that seat up to 50 people so there is something suitable whatever kind of group needs transporting around town.
Bus Rental Prices in Tampa
| | |
| --- | --- |
| Vehicle | Rental Pricing |
| 6 Passenger Limo | $110-$145 hourly* |
| 8 Passenger Limo | $120-$155 hourly* |
| 12 Passenger Limo | $125-$165 hourly* |
| 18 Passenger Minibus | $140-$170 hourly* |
| 20 Passenger Party Bus | $150-$200 hourly* |
| 25 Passenger Party Bus | $160-$220 hourly* |
| 30 Passenger Party Bus | $180-$260 hourly* |
| 30 Passenger School Bus | $145-$240 hourly* |
| 50 Passenger Coach Bus | $150-$240 hourly* |
| 56 Passenger Charter Bus | $150-$260 hourly* |
*Prices vary greatly depending on the city and state of your service. Due to COVID-19, rental prices shown in past estimates may not reflect actual pricing which may be significantly higher depending on availability.