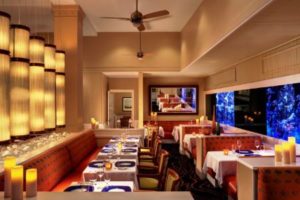 Tampa is a large city with many tourist attractions and many activities for both residents and guests. Tampa is the largest city in Florida and makes up a third of the Tampa-St. Petersburg-Clearwater metropolis. Not only has Tampa good quality living but it also has a lot of attractions for tourists to enjoy such as beaches, aquariums, dive spots, golf courses, theme parks, sporting events and many more! For this reason a lot of Tampa's visitors find themselves living there and many visitors go to great lengths to get there. Just like any big city of reasonable size, Tampa has a lot of restaurants of every kind. You can find the best cuisine from any part of the world in Tampa. They include food from the far east, to the middle east, to the Pacific islands, to Europe and even central America. You can find the rarest cuisine side by side with pizza and burgers in Tampa. There are so many options to choose from, it's hard to look for a place to start!
A lot of the classy and expensive restaurants in Tampa are located in the big business districts. Here, a successful career man or woman can have an impressive meal anytime and anywhere. If you happen to be near the beaches, aquariums or theme parks you might want to try out the many seafood restaurants in Tampa. They offer everything from shellfish to cucumbers to the best fish out of Tampa's seas. You wouldn't want to miss that! Many areas of the South are famous for their varied styles of delicious barbequed meats and Florida is no different. Tampa tends to be a melting pot of people from all around the country and the barbeque in the area reflects this diversity. Whether you are searching for that delicious style from Carolina, Memphis, Texas, or any other region, Tampa will have an establishment to satisfy your craving. While this list cannot begin to touch on how many places there really are in the Tampa Bay area to get some quality barbeque, it is a good start to figuring out some of the best places.
Here are 5 of the Best Restaurants in Tampa
---
Hungry Harry's
Hungry Harry's is located at 3116 Land O Lakes Blvd just over the county line on the north edge of Tampa. The building is situated on a beautiful lake and looks like a giant red barn. Harry's has been in business for almost 30 years and is quite delicious. Their chopped beef is one of the best in town and they will gladly load it up with one of their signature tomato-based sauces. The prices at Harry's are extremely competitive and you should have no issues feeding your family, even on a tight budget.
Alex's Southern Style Bar-B-Q
Alex's Southern Style Bar-B-Q is located at 5362 W. Village Dr in North Tampa in the Carrollwood neighborhood. Situated in a strip mall, many people can pass this place without ever knowing it is there (despite the plumes of delicious smoke pouring out of the building). Alex has been making this delicious smoked meat since 1995 and the residents of the neighborhood have been flocking to his store since it opened. A very good place to get a pulled pork sandwich or shredded beef sandwich with a distinct and delicious tomato-based sauce. The staff is always friendly and happy to serve the large crowds of customers they receive daily.
Big John's Alabama BBQ
Big John's Alabama BBQ is located at 40th St and Hillsborough Ave in Tampa. This place is a must-have for the true aficionado of delicious smoked meat and signature sauce. The Alabama style is apparent in the name and comes through in the thick sauce and large cuts of meat. With extremely hearty portions and some of the best signature sauce in the business, I recommend not missing the restaurant that has been a staple of Tampa since 1969.
Jazzy's BBQ
Jazzy's BBQ is another establishment that started in the mid-90's and is located in the middle of Tampa at 5703 W Waters Ave. The restaurant was started by a former defensive back of the Tampa Bay Buccaneers, Johnny Ray Smith. Jazzy's has a sweet or a spicy sauce that are both unique and delicious. With lunch specials going on daily for this delicious fare, it is recommended you call ahead or get there with plenty of time to spare.
New World Brewery
New World Brewery is not traditionally a BBQ restaurant, but they offer a buffet of delicious smoked meats Monday – Friday from 11am-3pm. New World is located at 1313 E 8th Ave in Ybor City. This is one of the best bars to get a quality craft beer in all of Tampa, so the addition of some delicious BBQ is a match made in heaven.
This list barely touches on all of the options for delicious BBQ in the Tampa Bay area. I recommend you try all of them and then venture out on your own and make your own list of the palaces of delectable meats. Enjoy your meals on the go in a Tampa limo rental.